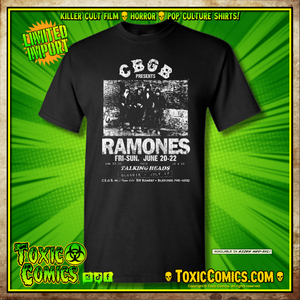 Ripped straight from filth of the 70's NYC punk scene. So gritty, you can almost smell the infamous CBGB bathroom!
These killer shirts come to us direct from our supplier in small batches to keep customs & shipping costs down, this means quantities are extremely limited. If you'd like to be notified when items are being restocked, be sure to sign up for email notifications.
This imported tee is screen printed on soft 100% cotton shirts in standard U.S. sizes.
**IMPORTED -- LIMITED QUANTITY**