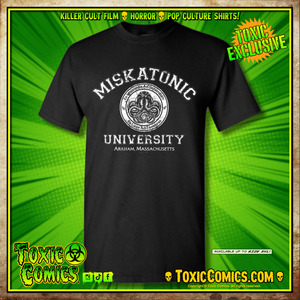 H.P. Lovecraft's alma mater, cursed campus and haunted halls of forbidden knowledge... MISKATONIC UNIVERSITY! This beautifully distressed Toxic Comics exclusive design features school mascot and legendary elder god, Cthulhu surrounded by the university slogan; "Out Of Ignorance Into Wisdom; Out Of Light Into Darkness".-- Show your school spirit, order one today!
*ALSO AVAILABLE: H.P. Lovecraft master of horror shirts!
Custom screen printed using high quality Plastisol inks on soft, heavy duty 100% cotton unisex t-shirts. *Wholesale quantities and pricing available.
*TOXIC COMICS™ EXCLUSIVE*