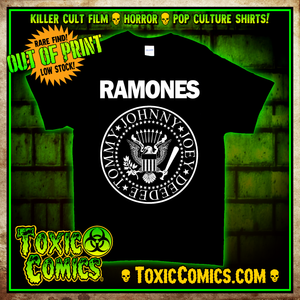 The Ramones are one of the most influential bands of all-time, birthing an entire genre of music as the fathers of punk. 40-plus years since their 1976 debut, the Ramones remain musical icons, and their logo is one of the most recognizable band logos ever created.
These killer shirts were purchased in bulk as part of a liquidation and have been sealed up in storage tubs for a few years, but this means quantities are extremely limited.
This OOP tee is screen printed on soft 100% cotton shirts in standard U.S. sizes.
**IMPORTED -- LIMITED QUANTITY**