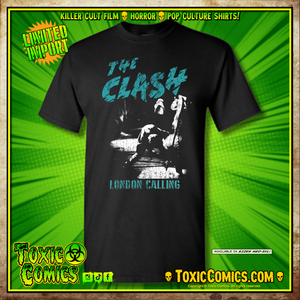 LONDON CALLING the classic album by THE CLASH is featured on this distressed vintage style import T-shirt. You may not fear a nuclear error, and London may be drowning, but if you need to evacuate and only have time to grab one T-shirt... make sure it's this one. Get em' while they last!
These killer shirts come to us direct from our supplier in small batches to keep customs & shipping costs down, this means quantities are extremely limited. If you'd like to be notified when items are being restocked, be sure to sign up for email notifications.
This imported tee is screen printed on soft 100% cotton shirts in standard U.S. sizes.
**IMPORTED -- LIMITED QUANTITY**